This week's post is a bit of several things. Of course I want to welcome you to Sweeter Than Honey's new home (even though it is virtual). Fun stuff is in store for that. But it would be inappropriate not to leave some encouragement when many  have lost so much as a result of Hurricane Harvey.
My home and most of those in my immediate area were spared significant damage. We watched the water rise to levels higher than any we had experienced prior to that. But thankfully, it drained sufficiently before each subsequent band of rain. All my kids were under my roof. Since they are older teenagers and gone most of the time, I treasured these moments of home-bound togetherness. After several days of not being able to leave the house, there were some squabbles. But those squabbles were blessings for which I'm grateful.
Clean-up has begun. Our church and many others have organized work crews to help families in the recovery process. It's heart-rending seeing the damage in the neighborhoods that were hardest hit. As our pastor said, it's not a sprint effort, it's a marathon. But in the midst of tragedy, there are already amazing stories out there. My friend, Debbie, posted the following only hours after it was safe to move around (shared with her permission):
I am humbled and blessed beyond any words. I had friends and total strangers show up at my house today and completely demo my downstairs down to the studs. I'm overwhelmed. And so very thankful. There are so many people who are in much dire situations than me but people just showed up wanting to help. Hands and feet. If you were doubting humanity – don't doubt anymore. People are good. I'm truly just speechless. This group of people did in a few hours what would've taken us days. The tears I've shed today have been out of gratitude.
I'm confident there will be many more stories like this one. If you are available, you have the opportunity to be the hands and feet of Jesus to those in need in your area. My heart is full that my kids want to be a part of that.
---
Sweeter Than Honey exists to encourage you to go deeper in your relationship with God. When you are firmly rooted in His Word, you have strength to persevere through the hurricanes (both literally and figuratively) of life.
The foundation of our relationship with God is the time we spend with Him in His Word and in our Worship.
Oh the joy of those who …  delight in the law of the Lord meditating on it day and night. They are like trees planted along the riverbank, bearing fruit each season. Their leaves never wither,and they prosper in all they do. (Psalm 1:2-3)

But as for me, I will sing about your power. Each morning I will sing with joy about your unfailing love. For you have been my refuge, a place of safety when I am in distress. (Psalm 59:16)
Starting next week, and each week following in this month, I'll be sharing a few of my favorite Quiet Time and Bible Study resources. Posts will go live on Friday. If you comment on the post or are a subscriber on my email list, your name will go in a drawing to receive the resource! The drawing will be the following Thursday.
| Post | Resource | Drawing  | |
| --- | --- | --- | --- |
| September 8 |  A Place of Quiet Rest, by Nancy Leigh DeMoss | September 14 | Kezzie.K |
| September 15 | Six Secrets to a Powerful Quiet Time, by Catherine Martin | September 21 | Angela M. |
| September 22 | Knowing & Loving the Bible, by Catherine Martin | September 28 | Amanda W. |
| September 29 | "There Is a Cloud", new album by Elevation Worship | October 5 | Missy |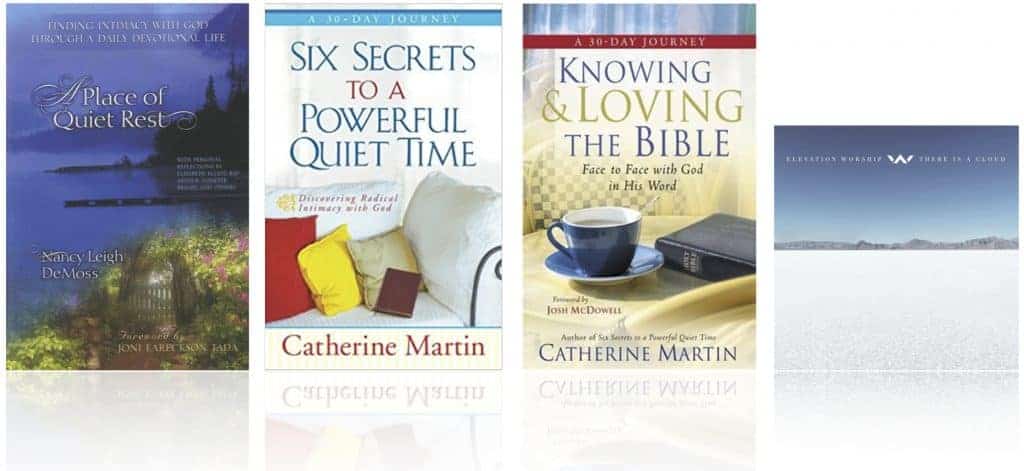 Sweeter Than Honey still has all the same, great content, just in a pretty, new wrapper. 😉 I've organized the content into three major categories.
Sweeter With God are posts that encourage us specifically in our relationship with God. They focus on how God is working in the nitty gritty of our everyday lives.
Sweeter With Others is just that. Posts that encourage us in our relationships with friends, families, coworkers, etc.
Sweeter & Deeper are posts that challenge us to take our relationship with God to the next level. They may be an actual Bible study, or the result of a particularly difficult challenge in my own life. Something that challenged my commitment to the Lord.
I hope and pray that you are encouraged by your time here. It's my prayer that your relationship with God will be strengthened. And that as you spend time in the Bible, tasting His goodness, you will know His Word to be Sweeter Than Honey.
(Visited 159 times, 1 visits today)